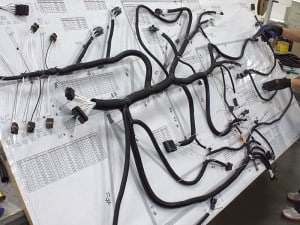 Original Equipment Manufacturer (OEM) wire harnesses are the backbone of countless industries around the world. Supplying a centralized interconnective system that powers, communicates, and transmits, OEM wire Harnesses play a pivotal role in functionality and efficiency. 
OEM wire harnesses are specifically designed to function within the original manufacturer's parameters. These intricate assemblies require extreme attention to detail, dedicated quality assurance, and unparalleled manufacturing proficiency. That's why Meridian Cable is the best place to find custom OEM wire harnesses, cable assemblies, and more. Our skills and proficiency help create the most reliable custom OEM wire harnesses in the business. 
Meridian's Experience
Since 1994, we've been a trusted name in the cable industry. With manufacturing facilities in St. Augustine, Florida, and Tangu, China, our bulk cable production facilities operate on a global scale. We've created custom wire harnesses, OEM cable assemblies, and other bulk cables for every industry under the sun. 
What sets us apart from our competitors is our dedication to quality, extensive industrial experience, the volume we can produce, and our commitment to our customers. We've employed the best minds in the industry. From our experienced engineers and designers to our skilled manufacturers, our team is the best of the best. 
Our curated team is here to help create the ideal cable solution for your equipment. With our experience and proven track record of quality, we'll help you design and manufacture the perfect OEM wire harness for effortless integration with your system. You can rely on our expertise for all your wire and cable needs. 
Applications for Bulk Custom OEM Wire Harness
Like many of Meridian's custom wiring products, OEM wire harnesses can have a vast array of applications in countless industries. With such variation in equipment, application, and purpose, OEM wire harnesses can be found in nearly any industry to ensure reliable connectivity and electrical operation. 
Over the years, we've had the privilege to design and create OEM wire harnesses for a number of industries and countless applications. Some of the most prominent applications for our products are found in the following areas:
Medical Field
Hospitals, clinics, and medical facilities utilize some of the most state-of-the-art technology in the world to diagnose diseases, cure patients, and promote physical well-being. Medical equipment of all kinds utilizes wire harnesses to ensure consistent signals, provide power, and perform medical procedures. Heart monitors, diagnostic instruments, medical computers, and more all benefit from quality OEM wire harnesses. 
With medical equipment, attention to detail is of the utmost importance. When we create OEM wire harnesses for medical equipment, we understand the responsibility and weight of our product. That's why we pay close attention to ensuring our wire harnesses are reliable and functional for the people that need them the most.
Military Applications
Military applications include a wide range of diverse technologies and systems that each have their own connection needs. This equipment enables the brave men and women on the ground to survey landscapes, locate targets, and understand their environments. 
When we create custom OEM wire harnesses for military applications, we pour our dedication to quality and commitment to creating reliable products our military can count on in combat and peace.
Telecommunications
The telecommunications industry is a fast network with an even broader range of equipment. Integrating wire harnesses for routers, switches, and networking devices that operate Transmissions within a network, across sectors, and worldwide. 
Frequently, telecommunications equipment requires highly specific frequencies, conductor sizes, and terminals to match its equipment's high specificity. When we create OEM harnesses for telecommunications equipment, we carefully craft our products to seamlessly integrate with the larger networking system.
Other Applications
There are countless applications and industries that benefit from Meridian's top-tier engineering—including automotive OEM wire harnesses. The point is, Meridian Cable can build the ideal original equipment manufacturer wire harness for any equipment in any industry. If you need to relay power, data, and/or signal, we've got you covered. 
Designing an OEM Wire Harness with Meridian
One of the benefits of working with Meridian on your connection project is our impeccable design team. Our crew works with you to create the precise solution for your equipment, just like the original manufacturer. Our design staff has decades of experience under their belts and are among the most keen minds on the planet. 
When designing OEM wire harnesses, careful consideration of the most exacting details is critical. Our cable experts put their skills to work to create the best, most reliable products on the market. To meet the original manufacturer specifications, we adhere to every standard, down to the last jot and tittle. 
Specialized Design for Seamless Integration
Our products are specifically crafted to seamlessly integrate with your system and the peculiarities of your equipment. When you create an OEM wire harness with our team, we build your product to the most exacting detail to serve as the circulatory system for your machinery. We specifically designed OEM wire harnesses to ensure seamless communication and power distribution throughout your equipment and system.
To meet the original manufacturer's the design process for OEM cables and wire harnesses must be meticulously crafted and executed. Sometimes, off-the-shelf options will not perform the tasks necessary for effortless integration. That's why working with our design team is the best option for creating OEM wire harnesses tailored to your system and electrical gear. 
It's the Small Details That Make the Difference
We pride ourselves on creating quality products that help our customers connect and run their equipment. To accomplish this goal, paying attention to the little things makes all the difference. Every OEM wire harness must consider the minute details to function correctly and provide reliable productivity. Some of those details include the following factors:
Wire types

Conductor elements 

Conductor sizes 

Protective features, like tubing and sleeves 

Shielding

Connectors and terminals 

Voltage 

Capacity 

Purpose 

Equipment 

Environment 
By keeping a close eye on these details, our team can build a reliable OEM wire harness for any industry. 
A Wealth of Options
Speaking of all the little things, our state-of-the-art manufacturing facilities have over 5,000 unique options to build the ideal wiring apparatus. No matter your equipment, environment, or industry, we have the capabilities and experience to create the correct OEM wire harness. 
Combining the wealth of options with our experience and manufacturing expertise, we can design and create a completely customized system just for you. This means no matter how particular your equipment or how unique your cable needs are, our team can work with you to design a seamlessly integrated system. 
Our State-of-the-Art Testing Lab and Quality Assurance 
Take our manufacturing process and quality assurance very seriously. While other manufacturers may be content to cut corners and provide less-than-quality products, we are not. We closely adhere to the highest industry standards and maintain quality assurance with rigorous accuracy. Every product we create undergoes a stringent testing process through our state-of-the-art quality assurance facility and testing lab. 
By the time an OEM wire harness is ready to ship out, it has undergone a thorough examination, including productivity tests, durability trials, and functionality examinations. We thoroughly vet, poke, prod, and test every product we send out the door to ensure high quality, functionality, and reliability. 
It'll Be There Before You Know It
Over our years in the industry, we've learned when you need an OEM wire harness, you need it pronto. We've got our manufacturing and testing process down to a science to produce high-quality cables and products at incredible speeds. Because we build nearly everything from the ground up in-house, we can produce a project from start to finish in just a few weeks at most. 
With the impeccable work of our design team, the efficiency of our manufacturing crew, and our global logistics network, your OEM wire harness will be there before you know it. Plus, we'll keep a record of your previous orders, so when you need more projects done, we'll have them ready for you lickety-split.
Relax, It's Under Warranty
As a leading cable manufacturer, we hold our customers in the highest regard and provide products we can be proud of. We treat our customers right and want them to be confident in the OEM wire harnesses they receive from our factory. 
We put our money where our mouth is and provide sufficient assurances to our customers. Our manufacturer's warranty guarantees our products will be free of manufacturing issues and cover the first 12 months after receipt. You don't have to worry about a thing if something goes wrong. If you experience problems with your product, our team will do everything possible to make it right. Simply get in touch with our team for any warranty questions or concerns.
Start Your Bulk Cable Project Today
Do you need an OEM wire harness of your own? We've got the solution. Our team can create a one-of-a-kind OEM wire harness for your equipment, industry, and environment. If you're not sure exactly what you need, no worries. Our team can guide you through the entire process. Request a quote from our staff today and get started on your very own OEM wire harness project.