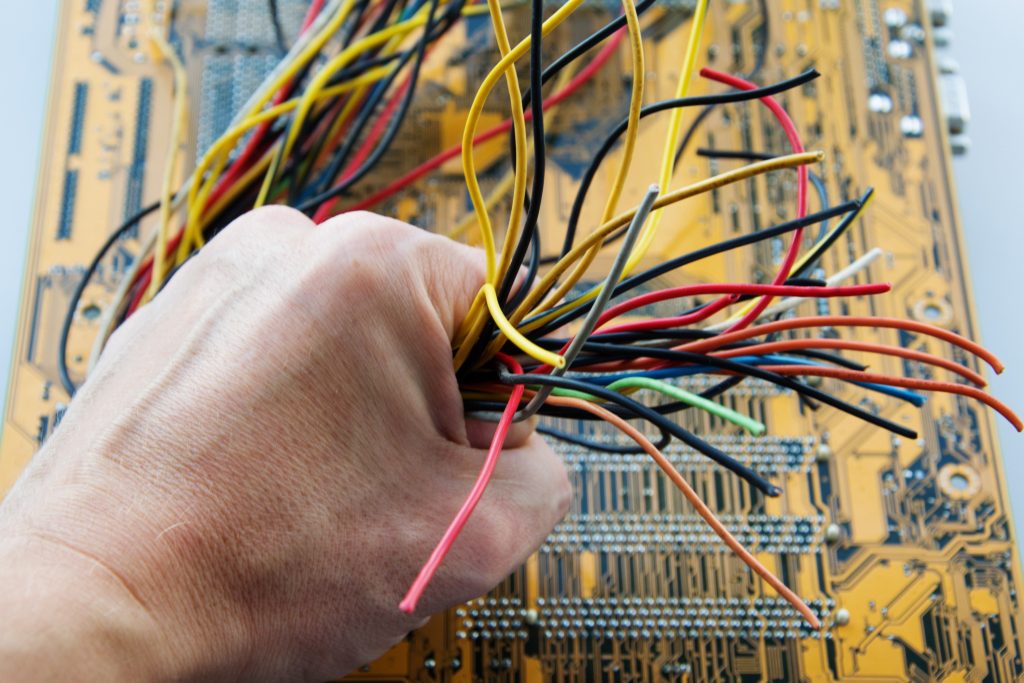 Printed Circuit Boards (PCBs) are laminated pieces of conductors and insulators providing layers of protection for the overall assembly. Soldering allows electronic components in precise locations to provide their respective use as connectors between terminations all in an efficient and controlled manner. Providing electrical connection and mechanical support, these workhorses make electrical components in a circuit's usefulness possible within a vast array of electronic devices.
Within the cable harness assembly sphere, PCBs for industrial controls and instrumentation are crucial components to the functionality of some of the world's most complex systems. In today's LiveWire insider's look, we'll cover all things PCBs in industrial and instrumentation to give you a better idea of how these components keep so many electrical systems running.
PCB Cable Assembly Manufacturing 101
Our connected world has increased in technological advancements at an exponential rate and the need for both commercial and industrial PCBs has risen in lockstep. Not only do PCBs and cable harness assemblies need to be highly capable but getting these products into the hands of clients given the many supply chain restrictions seen today takes a proven supply chain management system in place.
At Meridian, we deliver these kinds of exceptional results every day with a full line of some of the most advanced manufacturing capabilities available. From prototyping runs to making sure every component comes together perfectly to massive volume manufacturing, PCB assembly along with the custom cable assemblies provides total box, as well as sub-assembly set-ups for even the most challenging circumstances.
PCB assembly can take many different shapes, depending on the needs of the project. There's flex PCBs and standard rigid boards, single boards, double boards, multiple layers, and even specialized aspects like through-hole printed circuit boards. All of these require a perfect set of design parameters and precise engineering to provide a useful final product that will easily integrate into its intended system.
Applications for PCB & Cable Harness Assemblies
PCBs really wouldn't get very far without the perfect cable assembly and wire harness making integration possible. That's where our full complement of custom cable and wire harness design and production capabilities comes into play in a big way. Whether it's for a fully automated industrial control system for a waste-water treatment plant or a high-volume bottling facility, these PCBs and cable harness assemblies simply have to work.
You'll find PCBs in every electronic system imaginable, especially within the industrial and commercial marketplace. OEMs, as well, rely on the expertise we provide to provide the perfect solution within their overall system. A few of the many applications you'll find include:
PCB Assemblies in Medical Instrumentation
PCBs within the medical industry requires some very sophisticated processes to produce just what's needed. PCBs start with screen printing where even the most precise specs can be ingrained into the design. Surface mounting also requires precision where testing and optical inspection systems can ensure exact fits per spec. You'll see a blend of fully-automated processes, semi-automated, and even manual aspects to pull off the perfect build of a basic board.
A few of the many different unique PCBs used in the medical field include:
Flex PCBs: these flexible printed circuit boards can be employed in many different applications where space constraints are an issue. Flex circuit boards utilize substrates with natural flexural strength to bend without breaking. This helps to provide a smaller and higher density design for mounting which in turn helps to reduce waste in the assembly process and enhances overall reliability in the system.
Rigid Flex PCBs: you can have the best of both worlds by combining rigid PCBs and flex PCBs in a hybrid circuit. Flex layers usually run between the rigid layers to give full connectivity on both the top and bottom of the PCB. The lightweight and compactness afforded to rigid flex PCBs is their main advantage. Designs help engineers fit these in smaller spaces, which in turn can be utilized in advancements like miniaturization which is at the frontier of some of the most cutting-edge medical technologies on the horizon.
Back Flex PCBs: these hybrids utilize special polyamide compounds and other unique aspects like water-soluble solder before being coated and baked in special ovens. The end result is a highly functional piece of equipment that is lighter in weight, thinner, more flexible, and can be directly integrated into advanced medical electronic systems.
From diagnostic hardware to advanced medical electronics, and cutting-edge medical imaging devices, PCBs and medical cable assemblies provide the crucial connection that makes today's top-rate medical care possible.
PCB for Networking and Telecommunications Controls
The type of high-frequency chip carriers and advanced fiber optics found throughout our communications infrastructure is what powers global connectivity. At the core of these systems is, you guessed it, PCBs and custom cable harness assemblies. There are many specialized considerations within telecommunications.
For example, a data access switch relies on PCBs that are in compliance with Restriction of Hazardous Substances (ROHS) directives. From broadcasting to the communications system for a commercial office setting, PCBs make the electronics systems "talk" to one another in an efficient and secure manner. Voice Over Internet Protocol (VoIP) devices, video conferencing, cell towers, high-speed internet, even secure servers for the military and department of defense—all of the systems rely on PCBs and cable harness assemblies to get the job done.
PCB and Cable Assemblies for Automotive Applications
Whether it's a camera module in the vehicle, lighting that adjusts to the time of day and even the curvature of the roadway, or other forms of automotive electronics like LIDAR systems going into self-driving features, PCBs, and automotive cable assemblies make it all possible. With our IATF 16949 certification, Meridian stands as a recognized leader in high-quality automotive assemblies. We utilize our advanced capability in design and production to provide OEMs with the perfect set-up for easy integration, whether that's a small-batch prototype run or full volume manufacturing.
Engineering the Perfect PCB Cable Assemblies for Industrial Controls
From robotics to everyday consumer electronics, advanced LED lighting, and more, our society relies on PCBs in just about every facet of life. Behind these products and services are the industrial control systems that make automation possible. Municipalities rely on industrial control systems to power water and utility grids, smart infrastructure, and a number of other critical components we rely on every day.
Engineering cable types like braided, coaxial, multi-conductor, and too many more to list, Meridian has the design capability to start with known specifications and fit these to the project at hand. With a tool crib of well over 5,000 existing overmolds, junctions, terminations, connections, and other crucial elements, our team has the expertise and capability to deliver the perfect solution to even the most complex industrial control system.
Quality is at the Core of High Functioning PCB Assemblies
Quality assurance and quality control (QAQC) is built into the heart of any custom cable manufacturer worth its weight. We have advanced accreditation in quality control systems that make sure we're that much better with each and every production run we undertake. Our ISO 9001:2015 certification is actually wholly dependent on the QAQC program we have in place and our ability to continually demonstrate our commitment in this area. This extends from customer service all the way to design and production.
Testing is an absolutely critical portion of quality control. We use other techniques like Lean Six Sigma, Kanban, and Just-In-Time ordering to have the most efficient processes possible, but testing is how we guarantee that each and every assembly is 100% known to be in line with specs for continuity, integrity, polarity, and functionality before shipping.
Meridian's Advanced Life Testing Lab is one of the coolest parts of our entire operation, where each and every assembly and harness is put through the harshest conditions and tests imaginable to make sure they are up to the task they are being asked to do. Whether that's a pull test, flex test, using extreme temperatures, chemical resistance tests, or a whole battery of others, we make sure that the assembly can perform.
As a UL-approved manufacturing facility, we can also help our clients get their products certified through UL. We'll typically develop a sample that's ready to be tested and the UL design team uses their own battery of tests to make sure it's in line with OSHA, ANSI, and other applicable standards.
Start Your PCB Project with Dedicated Professionals
Meridian has decades of experience as a leader in cable assembly design and manufacturing. We've accomplished this with a commitment to quality in everything we do. From that first client interaction through volume manufacturing, you will find a superior level of quality built into every step of your project's journey. Discover why so many of our clients have come to depend on us when complexity and technical expertise are required to get the job done on time and on budget. Contact our team today to discuss the needs of your PCB cable harness assembly project.